Colorado Springs Criminal Defense Attorney
Because Your Future Matters
The Best Legal Representation Can Mean The Difference Between Success And Failure.
An experienced and aggressive Colorado Springs criminal defense attorney and a former Colorado public defender who has extensive knowledge of Colorado criminal law and an instinct to protect his clients.
Colorado Springs Criminal attorney Jeremy Loew has years of experience passionately defending clients, with thousands of successful cases won.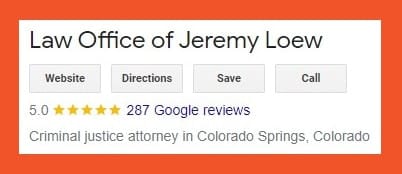 With over 280 5.0 Google reviews (more than most any criminal attorney in Colorado Springs), Jeremy Loew may be the most effective criminal attorney in Colorado Springs!
Exceptional Knowledge Of The Criminal Justice System In Colorado
There's a lot more to criminal law than knowing various Colorado criminal statutes defining crimes where clients are charged.
To be a successful criminal defense attorney in Colorado Springs you also need to know the system that covers criminal prosecutions.
The best criminal defense attorney should understand the various procedures adhered to in criminal cases especially in Colorado, El Paso County and the Colorado Springs area.
The Colorado Springs criminal defense attorney should know the procedures followed in the event of pretrial discovery, arraignments and other court proceedings.
Jeremy Loew has years of experience in criminal law with many successful cases under his belt. During his tenure as a Public Defender, he gained the relevant knowledge of the criminal justice system, knowledge and experience needed to bring your case to a successful conclusion.
Understanding The Defense Of Criminal Charges
A public defender has first-hand knowledge on how a criminal case is developed, starting with the investigation stage and everything else thereafter. Mr. Loew, formerly a public defender, has prepared various cases for trial and learned exactly what's needed for a successful defense.
Therefore, by choosing Jeremy Loew as your defense attorney, you have an attorney with first-hand knowledge of Colorado's legal system.
That's experience he can put directly to use defending you.
Be Smart, Hire Jeremy Loew
By hiring Jeremy Loew as your defense attorney, you're doing the right thing, the smart thing. That's because he can take advantage of the knowledge he has gathered over the years to prepare and prosecute your defense. He will work tirelessly and creatively to exploit every possible option to get the best possible outcome for you.
Even better, Jeremy Loew knows how to negotiate properly, to litigate your case for a possible reduction in charges or even a dismissal if at all possible.
Jeremy Loew is not afraid to go to trial. His passion for his clients in unmatched – he goes all the way to vigorously and thoroughly defend your rights as an accused.
Familiarity With The Prosecutors And Judges
Any Colorado Springs criminal criminal defense attorney, especially one who has been defending clients for years, has gotten to know the local prosecutors and judges. The defense lawyer knows their habits, strengths and weaknesses in order to custom-tailor a defense plan depending upon the circumstances of your particular case.
Even better, it's a good platform to create respect with peers, including other defense attorneys, prosecutors and judges to foster good relationships. These good relationships with law enforcement, the judicial system and other attorneys is an invaluable asset when it comes to defending you.
Since he was a public defender himself, Mr. Loew may, in fact, already know the prosecutor trying your case, and maybe even the judge who will be hearing it.
Therefore, he can work on these relationships to your benefit, making sure you get the best custom-crafted legal defense possible.
Knowledge Of The Law
With his years of experience, Jeremy Loew has gained a lot of knowledge about the law from all the cases he defended. Whether it was a misdemeanor or a felony or even a personal injury case he has handled them.
As your defense attorney, Jeremy can apply that experience directly to your defense.
You should understand that criminal law is quite complicated to anyone without specific experience and can be quite confusing to beginners. Knowing ALL the criminal law pertaining to your case is critical to a successful defense. Whether you've been accused of murder or a seemingly simple traffic violation, Jeremy Loew has the specific knowledge and experience to defend your rights.
Jeremy Loew has enough experience as a public defender and intimate knowledge of criminal law in Colorado to aggressively defend you from virtually any criminal charges.
Types Of Criminal Charges Mr. Loew Defends
Under his law offices, Mr. Loew defends various clients with numerous criminal charges. Whether it is felonies or misdemeanors, he can handle it all. Also, he specializes in defending assault crimes, violent offenses, drug crimes, sex crimes, domestic violence accusations and child abuse and many other charges.
You can see many more specific crimes Jeremy defends HERE.
We are here to provide the best legal assistance if you've been accused of a crime in Colorado Springs.
Contact us today for a free consultation.
NEED LEGAL HELP?
Contact Us for a Free Consultation Now!