Colorado Springs Child Abuse Defense Lawyer
If you are facing a child abuse charge in the state of Colorado, then you need to have quality legal representation and assistance from an experienced and skilled criminal defense attorney in Colorado Springs who has a thorough understanding of child abuse law.
These are unique cases that are very emotionally charged and include broad statutory language – which are two major factors that are serious challenges that the accused is faced with.
Are You Accused Of Child Abuse?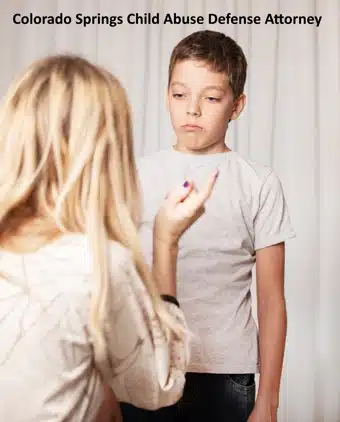 There is no denying that being falsely accused of child abuse can be a severely challenging issue for parents, educators, and child care workers. Unfortunately, child abuse accusations have become common in the past several years, most probably because people can get in trouble if they fail to report a suspicion of a crime.
As such, it's the responsibility of anyone who works with kids to file a report, even if they are just a bit suspicious.
However, disproving a false allegation, despite the type can be very complex, and even more so when one is falsely accused of abusing their own child. When such an allegation happens in a divorce, it's not uncommon for the accused party to seek revenge against their ex-spouse.
This can quickly result in a very nasty child custody battle and the kids are instantly caught in the cross fire.
Hiring a reputable criminal defense attorney will know how to resolve the case with as little damage as possible to the divorce case and the child.
Child Abuse Criminal Conviction
A criminal conviction for child abuse could devastate the life you know today. Potential jail time, Housing, employment, relationships with family and friends are all on the line and you could suffer irreparable damages should the worst case happen.
Your child abuse case's outcome also can have a strong and long-lasting impact on your children's custody, and their relationship with you over the long term.
To aggressively protect and defend your interests and your future, you need to seek a compassionate and experienced Colorado criminal defense lawyer as soon as you can.
Child Abuse Allegations In Colorado
Child abuse allegations in the state of Colorado can range from a serious case that involves shaken baby syndrome (SBS) to a young child being left unattended inside a car, to reasonable discipline that all too often becomes part of a child abuse accusation.
Most often, child abuse allegations are made against parents.  However, it is also fairly common for caregivers, neighbors, family friends or other relatives to also be accused of child abuse.
Under Colorado Revised Statutes § 18-6-401, child abuse is very broadly defined, and parents may face felony or misdemeanor child abuse charges.  A visit from social services almost always occurs following an allegation, which could result in your children being taken away from you.
Make sure that you and your family's rights are protected. Make an appointment for a free consultation with Jeremy Loew, an attorney with a strong reputation for providing a strong defense and who understands the strategies used by prosecutors in these cases.
In Colorado, child abuse is defined as;
An inaction or action that involves injury to the health or life a child,
To allow a child to be placed unreasonably in a situation posing a threat to the child being injured,
Engaging in a continuous pattern of conduct where the results are lack of appropriate medical care, malnourishment, mistreatment, cruel punishment or the accumulation of injury that results ultimately in serious bodily injury or death of the child.
In situations where the police have responded to a domestic violence allegation and the child either observed or was present when the altercation occurred, then often child abuse charges are brought against the individual charged with domestic violence (the defendant).
You Need An Experienced Criminal Defense Attorney
The Law Office Of Jeremy Loew is Colorado Springs' leading criminal defense law firm with years of experience and the unique knowledge that is necessary to defend clients who have been charged in the state of Colorado with alleged child abuse.
We will strongly advocate for your case at each step along the way, but doing so in a very discrete matter since we understand that your future and reputation are always at stake and on the line.
If you make the decision to retain our criminal law defense firm in Colorado Springs, we will provide you with criminal defense representation at the highest level available.
Child Abuse Allegations Are Serious
Child abuse charges frequently carry far-reaching and serious consequences.  You might have a hard time securing housing or employment based on a conviction.  Depending on how serious your case is, you might face a prison or jail sentence.  You might be required to attend substance abuse, anger management, and parenting classes and complete a certain number of hours in these courses.  You might also be required to have a sobriety monitor, which may be a serious inconvenience for you.
Jeremy Loew is committed to defending parents who are charged with or have been accused of, child neglect or child abuse, which includes sexual abuse of children.
Our focus is on assisting families and parents who are faced with the consequences of a child neglect proceeding or a child abuse allegation:
Potential forfeiture of parental rights and losing a child forever
Potential prison or jail time if convicted
Invasive criminal investigation when charges are filed
Potential for the state to take a child away
Social services investigation
DUI Or Illegal Drug Use Are Risks
Many parents don't realize that under the law it is child abuse when they get a DUI with a child in the vehicle.
Parents are also faced with child neglect or abuse charge if they get arrested for possessing or using opiates or other types of illegal drugs in their house with a child present.  In that case, a parent may be charged as well the felony of contributing to a minor's delinquency.
Call the Law Office of Jeremy Loew now to schedule your free legal consultation with Jeremy Loew.
Child abuse charges are as serious as it gets – make sure you have the best legal team on your side for the best possible outcome.
NEED LEGAL HELP?
Contact Us for a Free Consultation Now!
NEED LEGAL HELP?
Contact Us for a Free Consultation Now!