Reckless Driving Attorney
According to Colorado law the definition of a reckless driving is a driver who;
Drives a motor vehicle, an electrical bicycle, a regular bicycle or a low-power scooter to show a willful or wanton disregard for the safety of property or other people.
In addition to being a criminal penalty, being a reckless driver can also have some terrible consequences.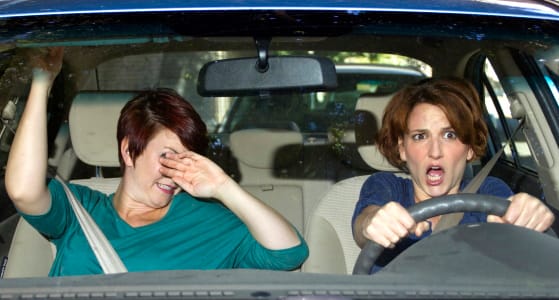 Reckless Driving Conviction – 8 Point Offense
Reckless Driving is an 8 point DMV offense so it will increase your insurance rates. Depending on the condition of your driving record, your driving privileges might also be suspended if you've accrued enough points.
In Colorado Springs and El Paso County, you can accumulate only 12 points within a year or 18 points within 2 years before you are forced to go to a revocation hearing for your driving license – meaning that a reckless driving conviction can cause you to lose your driving privileges. Therefore, a few traffic violations including a reckless driving convictions will lead to the revocation of your driver's license, meaning you will not be able to drive in Colorado.
Also, as a reckless driver, you might also be dubbed a habitual traffic offender. Being a habitual traffic offender is much more serious than careless driving and could risk your future job opportunities as well as your current job, especially if your job involves a lot of driving.
For a conviction on reckless driving, the jury needs to decide whether the actions of the defendant were wanton or willful. Basically, the jury needs proof that the driver's actions were done on purpose.
It's quite presumptions to assume that any person can know the intentions of someone else's actions. There is no real way to prove this unless the driver mentioned that he/she was ready to cause an accident or if a witness overhead the driver saying so.
As such, the fate of a reckless driver is in the hands of El Paso County jury.
The Penalties For Reckless Driving
First time offenders will be penalized under a class 2 misdemeanor offense (under CO Rev Stat 42-4-1701). The penalty for this offense will be:
A minimum of 10 days of imprisonment, a fine of $150 or both.
A maximum of 90 days of imprisonment, a fine of $300 or both.
Attorney fees
Court costs
The DMV deducts 8 points from your Colorado driving license
Also, your insurance will take back all the discounts and will most likely hike your premiums when renewing your policy, if they renew you at all.
Keeping Your Driver's License After A Reckless Driving Conviction
Imagine if you can't drive to work or to the hospital because or even pick up your children from school because your driver's license has been revoked. You need to be careful on the road and avoid reckless driving because convictions can easily cause the loss of your driver's license.
If you have been charged with reckless driving, you need to hire the best traffic violations attorney in Colorado Springs.
Jeremy Loew can help you fight the reckless driving charges in court. Don't take chances with a reckless driving charge – the consequences of a conviction could mean loss of driving privileges and large fines.
NEED LEGAL HELP?
Contact Us for a Free Consultation Now!