Colorado Springs Motorcycle Accidents Attorney
Motorcycle riding invokes images of freedom on the wide open road; however reality often involves certain vulnerabilities that can result in severe injuries or death in many motorcycle accidents.
Motorcycle Accidents Can Happen
Dangers to motorcyclists range from pot-holes to risky driving practices from both the motorcyclist and auto drivers.  Split lane driving, careless lane switching, speeding, and drunk driving are common factors in motorcycle accidents.
If you're involved in a motorcycle accident, it is crucial to have the help of an experienced attorney at your side– one who understands how to build a strong, convincing case to overcome the biases inherent in motorcycle accident cases.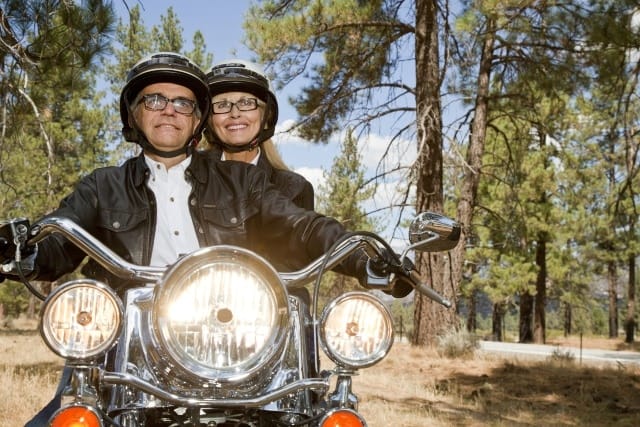 Motorcycles are practical, economical and fun to get you around the city of Colorado Springs. However, motorcycle riders do not have much to protect themselves when they are involved in a severe crash and are more vulnerable to becoming injured compared to individuals who are behind the wheel of a truck or car.
Whenever crashes do occur, our motorcycle accident lawyers go to work in order to obtain financial compensation for you due to the injuries you have suffered.
Careful Riders Are At Risk Too
Even the riders that are most conscientious and careful are at risk for getting into accidents.
With or without protective safety gear and a helmet, motorcycle accident victims frequently experience the most serious kinds of injuries compared to other kinds of motor vehicle accidents. Those injuries frequently require hospitalization, surgery, physical therapy, and medication.
You might also need home care attendants and home medical equipment. In the meantime, while you are trying to recover from your injuries you might be unable to work.
When you are injured as a result of a motorcycle accident it is often a frustrating, confusing, and frightening experience. It is important to have an experienced lawyer on your side who will fight hard for your rights. Jeremy Loew has helped many victims of motorcycle accidents receive the compensation needed to allow them to focus on rebuilding their lives and recovering from their injuries.
Colorado Shared Fault Law
Colorado's shared fault law determines the extent of responsibility and damage recovery based on evidence. A knowledgeable attorney enlists the services of accident investigators to ensure damage recovery is in your favor when determining liability. 
For instance, while split-lane driving is illegal in Colorado, if the motorcyclist did this as a defensive driving maneuver to avoid a reckless driver swerving into him, it can show that the  other driver's carelessness was a substantial cause of the accident.
Colorado's Helmet Law
Colorado's helmet law plays a major role in determining damage recovery.
While Colorado does not have a universal helmet law, helmets are mandatory for minors, and must bear the DOT sticker.  Negotiations for settlement depend on severity of injuries, whether the use of a helmet would have reduced said injuries, and to what extent compensation should be reduced
According to statistics, motorcyclist deaths from traffic accidents reached an all-time high between 1999 and 2008.  A wrongful death lawsuit in Colorado as a result of a motorcycle accident is a real possibility.
An aggressive and experienced Colorado Springs attorney can help you retain your perspective and your rights in this scenario.
Road Hazards Can Contribute To Motorcycle Accidents
Road hazards such as potholes, sewer grates, and disruptions from street construction work can cause motorcycle accidents.  If the accident is determined to be caused by neglect on the part of the public agency in charge of the roadway, different time-tables apply, and the guidance of an experienced attorney is crucial in filing a claim and recovering damages.
Factors such as the motorcyclist's formal training, experience and length of time riding, familiarity with a specific roadway and any roadwork present, and the motorcyclist's two-wheel and four-wheel driving record all play a crucial role in determining the outcome of a favorable settlement or jury verdict.  An experienced personal injury attorney can present these facts in your favor and help those involved see the bigger picture.
Hold Negligent Drivers Accountable
In many cases, motorcycle accidents occur due to the negligence of another driver.
As your legal representative, we will investigate what really occurred. The driver might have fallen asleep at the wheel, been texting, or was speeding. Jeremy Loew has the experience and the resources to search for evidence of negligence as well as how to build a solid legal case for you.
The insurance company usually makes an initial settlement offer. However, the amount of the settlement often will not come anywhere near being able to cover your accident's full cost when you consider injuries and hospitalization, lost wages, etc.
They might even claim that it's the best they can offer, given the circumstances. We won't accept that. We will go to the negotiating table to aggressively come up to a settlement that will work for you.
Whenever an insurance company realizes what a strong case we have built, usually they will end up making a settlement that is much more favorable to you. If they don't do that, then we will go to court and fight hard for financial compensation for you there.
In addition to lost wages and medical expenses, you might also need to seek compensation for other types of damages, like mental anguish and pain and suffering. Jeremy Loew has vast experience getting clients the settlement they rightly deserve.
Call an Experienced Motorcycle Accident Attorney
The Law Office Of Jeremy Loew can work with you to help you get the money that is owed to you for the losses you have suffered. That will allow you to focus on your recovery and health and you won't need to worry about having enough money to cover all of the accident-related expense that you have.
Responsible motorcyclists such as yourself have every right to be out on the road. Whenever you are injured due to the negligence of someone else, you shouldn't be the one having to pay for the mistakes the other driver made. Jeremy Loew will stand up and fight for your rights.
Let an expert guide you when negotiating a settlement or filing a lawsuit after a motorcycle accident.   Jeremy Loew tailors his strategy to address your specific legal needs and provides you with individual, personalized care.   
At The Law Office Of Jeremy Loew, you won't be given the run-around common at large, impersonal law firms.  Make your first call to Jeremy Loew now to discuss your case.  
NEED LEGAL HELP?
Contact Us for a Free Consultation Now!