Bicycle Accidents Are Expensive!
Bicycle accidents can cause serious injuries. Have you been injured because of a bicycle accident? If so, then it's time to call The Law Office of Jeremy Loew to get the compensation for your injuries that you deserve!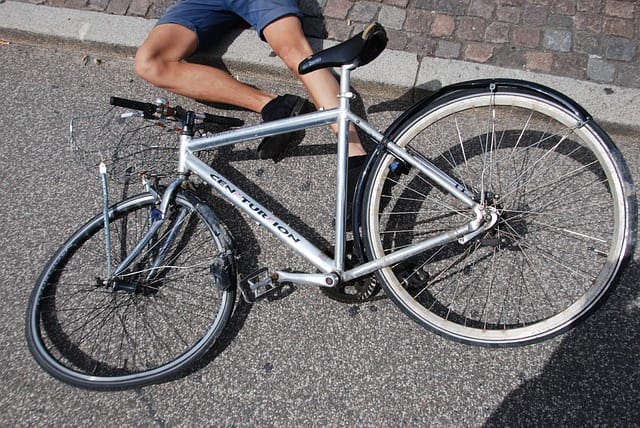 Injuries From Bicycle Accidents Can Cost You!
Nearly 130,000 people are injured and almost 1,000 die in bicycle crashes every year according to cdc.gov. The same website reveals that the costs associated with bicycle injuries and deaths exceed $23 billion annually.
Bicycle Accidents Injuries Include:
Brain injuries
Fractured or broken bones
Bruise, cuts, and road rashes
Disfigurement
Neck injuries
Organ damage
Paralysis
Spinal cord injuries
Bicycle accidents can happen on every kind of road in all sorts of conditions and weather.
On the other hand, there are some circumstances which prove far more dangerous than others do.
In general, intersections often are the most dangerous places for many cyclists, who might get struck by vehicles that refuse to yield or just disregard the right-of-way of the cyclist.
Many times the drivers are in a hurry and don't even see the bicyclist!
Stopping, turning, and merging all prove to be risky things for cyclists to do, as they're no match for the speed or weight of most passenger vehicles.
At The Law Office Of Jeremy Loew, we work with cases involving injured bicyclists. We know the legal system in Colorado, and we can provide you the support you need along with making sure you're fairly compensated for your injuries.
What should you do after a bike accident?
If you've been involved in a bike crash, then you need to call the police immediately so that they can file an accident report.
Never leave the accident scene, nor should you admit responsibility for the accident or take any blame.
Don't offer a written or recorded statement to any insurance company if they ask you to do that.
Contact an experienced Colorado Springs personal injury attorney immediately!
Victims of bicycle accidents need to demonstrate that injuries they suffer are the consequence of someone else that wasn't exhibiting due care when they were driving.
If you suffer injuries in any bicycle accident that wasn't your fault, then you might be entitled to compensation.
This compensation could include the recovery of medical expenses, like hospitalizations, medications, and doctor visits. You might also get back past and future wages you lose from not being able to work, as well as compensation for emotional and mental distress, and pain and suffering.
Frequently Asked Questions About Bike Accidents
If you have recently been involved in a cycling accident, and you're not sure how you should move ahead, our team of attorneys has put together the following frequently asked questions that might address your concerns.
When can you seek injury compensation after a bike accident?
If you happened to be involved in an accident with a motorist that you feel was personally at fault, you can file what's called a personal injury claim. Distracted or negligent drivers might be held liable for any injuries and/or damages that happen due to an accident.
Do you have much time to file your bicycle accident claim?
Most states have a statute of limitations in place for any personal injury claims. That means you must file at or before the deadline, otherwise, you'll lose any opportunity to get compensation. To learn what deadlines you face, we suggest taking advantage of our free consultation process to talk about your case as quickly as you can.
Frequent Causes Of Bicycle Accidents
When you're out cycling, you pray that motorists are always going to pay attention, but you know that some won't. Although many community efforts are out there to change things (like specific bicycle lanes, laws to help bicyclists, etc), you need to be prepared for the cold truth that you put your physical safety on the line every time you mount your bike.
Unfortunately, drivers aren't the only risk on the roads. Road shoulders, bike lanes, and lack of signs can all contribute to potentially serious accidents that involve bicyclists.
On the other hand, driver inattention remains the most frequent cause behind collisions that result in bicycle riders getting injured.
Some common instances of wrongdoing or negligence by drivers that result in bike accidents include but are not limited to the following situations:
Intrusions into bike lanes
Inattention or distracted driving
Striking or hitting a bicyclist with a vehicle door
High-speed driving
Driving while under the influence of drugs or alcohol
Entering traffic right in front of cyclists or coming in from driveways or parking spots
Failing to yield to a cyclist's right of way
Making unsafe lane changes or turns
Running red lights or stop signs
Rider errors might involve things like stunt performance, inexperience, speed, or loss of control. Negligence by motorists might include speeding, driving while distracted, and even improperly passing.
There can also be environmental hazards such as road debris, potholes, and loose gravel. Manufacturing defects can mean bad brakes or chains, substandard bike assembly, and even pieces missing, such as reflectors.
Regardless of the cause, any injuries can wind up being catastrophic.
Fractures or broken bones might mean multiple surgeries, continued rehab, and the need for therapy.
Serious or traumatic brain and head injuries, including concussions, might mean the loss of motor functions, balance issues, permanent vision difficulties, and even memory loss.
Injuries involving the spinal cord might result in paralysis, either temporary or permanent.
Any such injuries or other serious issues as a consequence of a bike accident might mean the victim endures a life of financial hardship, pain, and permanent disability. If you personally suffer any debilitating injury as a result of a bike accident, then let a seasoned personal injury lawyer in Colorado Springs help you get the financial compensation that you deserve.
No financial settlement can reverse what happened to you, but it might help ease any burdens that months to years of lost wages and medical care might burden you – possible for the rest of your natural life.
Call our law office today or Click HERE to contact us for your free consultation.
NEED LEGAL HELP?
Contact Us for a Free Consultation Now!
Get Your FREE CONSULTATION NOW!